BENGALURU: "To boldly go where no man has gone before …" That was the opening narration for the iconic sci-fi TV show 'Star Trek'. It pretty much summarises the scale of the achievement by India's space scientists on Wednesday.
Isro's Chandrayaan-3 made a perfect touchdown in the south polar region of the Moon at 6.03 pm Wednesday, pitchforking India into an elite club of nations that have achieved soft-landing on the lunar surface.
The lander, Vikram, representing India's second bid at unravelling mysteries on the unexplored side, made its final descent from a height of 70km in textbook style. "We have achieved soft-landing … India is on the moon… This is the beginning of the golden era," said Isro chairman S Somanath amidst applause from scientists and engineers at the operations centre in Bengaluru.
Prime Minister Narendra Modi, who watched the landing live from South Africa, said "India's successful moon mission is not India's alone … the success belongs to all of humanity."
Vikram has established communication links with the Missions Operations Complex (MOX) in Bengaluru. The lander carries within it the rover, Pragyan, which has rolled out on to the lunar surface, according to reports, though official confirmation is awaited. Pragyan's rolling down was designed to leave an imprint of the national emblem and Isro's logo on the lunar surface. It will roam over a bleak, uncharted terrain in days to come, sending back data and visuals.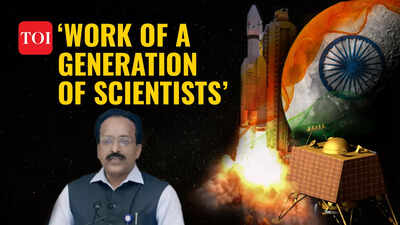 Chandrayaan-3 landing: 'Success not ours alone, this is the work of a generation of Isro scientists', says S Somanath
Moon mission accomplished, Venus next?
A bout 60% of all lunar landing missions so far have been a failure. Russia's Luna-25 crashed while attempting to land in the south pole region. India is now the fourth to land on Moon and the first to land a probe in the south pole region. About 60% of all lunar landing missions so far have been a failure. Russia's Luna-25 crashed while attempting land on the lunar south pole region.
Chandrayaan-3, which was conceived almost immediately after its predecessor failed to soft-land in September 2019, has had a four-year journey before the launch on July 14 and another 40 days since then. "This mission may have taken four years, it is a result of hard work of several years starting with Chandrayaan-1 and Chandrayaan-2, whose failure helped perfect Chandrayaan-3. We could not have landed without these two missions," Somanath said.
The Landing All systems on Chandrayaan-3 performed exactly as planned throughout the 40-day journey, overcoming one challenge at a time before the all-critical powered descent kicked off at 5.43pm Wednesday. The project team comprising P Veeramuthuvel (project director), Kalpana K (associate project director), mission director Srikanth and URSC director M Sankaran were elated that a mission that they had been "breathing" for the last four years has put India into an elite club.
The power descent began with the rough-braking phase that lasted 11.5 minutes, taking Vikram to an altitude of 7.4km. The 10-second altitude holding phase that followed and the three-minute finebraking phase which brought it down to a height of 800m were also flawless. The terminal descent phase ended at 6.03pm, sending Indians over the moon.
Soon after the landing, Isro carried out a series of checks to verify the health of Vikram before Pragyan rolled out. "We had the most nominal velocity at touchdown. It was a lot less than 2m/s. So the lander's health will be OK," Somanath said soon after the touchdown.
In line with the government of India's vision for 2047, Somanath said Isro has presented proposals which he was hopeful will get the required backing from the government. "We are very clear about our longterm missions in what the PM calls Amrit Kaal. Ideas and concepts have been presented. I hope he will support them," Somanath said. In the pipeline for India is the solar observatory mission — Aditya-L1 — whose integration with the Chandrayaan-3 launch vehicle is expected to be completed in a couple of days. Somanath said the launch is scheduled for the first week of September. Some three weeks thereafter or in early October, Isro will also carry out an abort test as part of Gaganyaan. "Maybe we'll have a mission to Venus in the near future," Somanath said.
Soruce : TOI