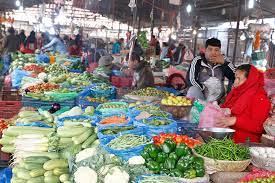 Kathmandu, March 29: Indian agricultural products have dominated the Nepali kitchen. A major percentage of vegetables and fruits is imported from neighbouring India, according to the one year data of the Kalimati Fruits and Vegetables Market Development Board. 
For instance, imported onion from India in a period of one year accounted for 99 percent. Similarly, tomato imported from India made up 94.11 percent, potato (60 percent), green pea (45 percent), gourd (39 percent), pumpkin (66 percent), moringa oleifera (77 percent), tamarind (99 percent), apple (81 percent), pomegranate (98 percent), papaya (81 percent), and grape (81 percent) of the Nepali market.
In the face of increasing imports of agricultural products from India, economists have warned that the situation was not good for the country's economy when over half of its population is dependent on agriculture. According to the national census, 2078, 50.1 percent population survives on agriculture.
There was a large import of agricultural products from India, said the Board's information officer Binaya Shrestha. Agricultural products imported from India in a span of one year accounted for 38.68 percent, he said.
"Vegetables in a large quantity are imported from India," he said.
Of over 263 million kilograms of vegetables imported during the period, more than 101 million kg was imported from India, said the Board's planning officer Ramesh Dangol. China and Bhutan supplied over 100,000 kg each, Bangladesh (around 150,000 kg), and other countries over 5,000 kg.
"Nepal is not self-sufficient in some vegetables. Failure to commercialize agriculture may be a reason. So, we are forced to import from foreign countries including India," he said.
Until some years ago, around 80 percent demand for vegetables was fulfilled by domestic products, he said.
"Apples produced in the mountainous Jumla district cannot reach here due to various problems. So, the fruit is imported from foreign countries to meet the demand. Lately, import of vegetables and fruits is increasing."
The Kalimati market purchased vegetables from the local market including the Kathmandu Valley (Kathmandu, Lalitpur, and Bhaktapur districts), surrounding and other districts including Dhading, Kavrepalanchok, Makawanpur, Chitwan, Sarlahi, Dolakha, Nuwakot, and Gorkha.
In the previous fiscal year, 2021/22, a total of 270,278 metric tonnes of vegetables and fruits were imported from foreign countries, said the Board. (RSS)