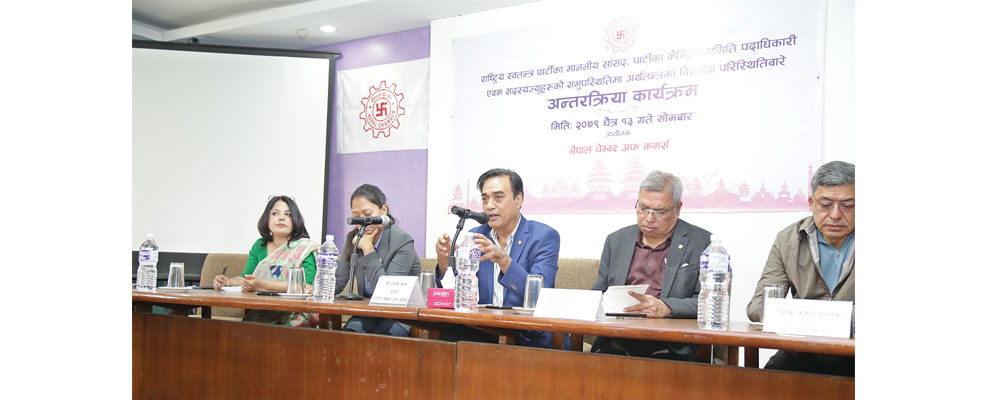 Kathmandu, Mar. 29: President of Nepal Chamber of Commerce Rajendra Malla has once again requested the concerned bodies to address the problem arising from the high interest rate immediately.
During the meeting with the parliamentarians of the Rastriya Swatantra Party in Kathmandu, Malla said that the entire economy was at risk due to high interest rates of banks and financial institutions.
He said, "Recently, due to the high interest rates, the industrialists and the borrowers as a whole have been worried.
It is not possible to invest in business by taking loans. Even those who have taken a loan before this cannot afford to pay interest."
President Malla drew the attention of the parliamentarians to the fact that the recent recession in the industry would have a long-term impact on the economy.
He said that along with interest rate control, other challenges of the economy should also be addressed in time.
He said, "Capital budget has not been spent. Public debt has reached 42 per cent of gross domestic product (GDP). Due to the sluggish domestic production, trade deficit has increased."
It is necessary to raise the voice in the parliament effectively on issues related to common citizens, he said.
President Malla said that a solid and effective strategy should be made to upgrade the country's economy into a digital system.
He said that cash and credit transactions should be stopped forever by supporting digital transactions.
During the discussion, Member of Parliament on behalf of Rastriya Swatantra Party Sumana Shrestha said that the economic system of the country should be freed from the shadow of politics.
Shrestha said that they have repeatedly drawn the government's attention to this matter in the parliament.
She said that the party would also accept the suggestions of the private sector in the bills related to the economy.
Hari Dhakal, another MP of that party, said that industrialists should not be associated with any particular political party.