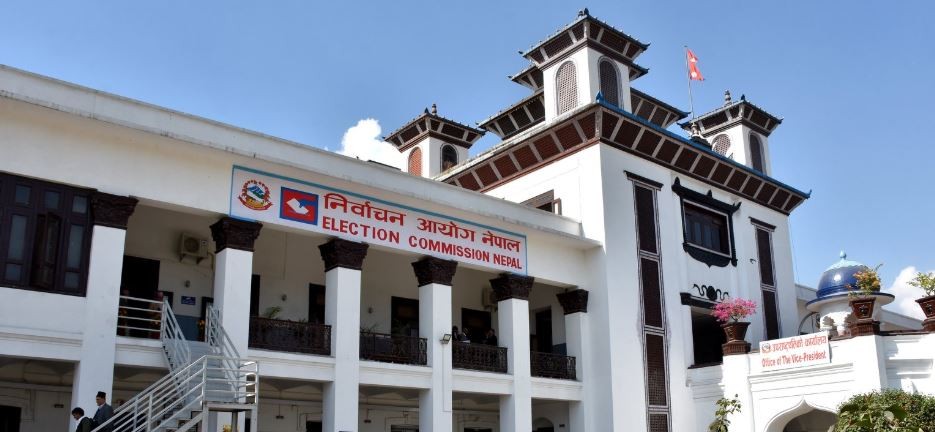 Kathmandu, Mar. 7: Silence period for the Presidential election began from Monday midnight. The election for the new President is taking place on Thursday.
The Election Commission (EC) has said that candidates of the Presidential election need to conclude their election campaign by Monday mid-night as the election code of conduct does not allow any activity related to election campaign 48 hours before the election.
Issuing a statement on Monday, the EC said all the concerned, including political parties, candidates and voters, are informed that the electioneering will be prohibited until the polling stations are closed on Thursday.
EC's Spokesperson Shaligram Sharma Poudel said in order to conduct elections in a free, fair, reliable, transparent and fearless manner, the prohibition of publicity will be in effect from 48 hours before the polling day until the polling stations are closed on the polling day.
The EC also reminded of the section 24 (5) of the Election (Offenses and Punishment) Act and Election Code of Conduct, 2022, which prohibits conducting any type of discussion, interactive meeting, conference, workshop, seminar, among others, in favour of or against the candidate, including election publicity during the silent period.
The EC also asked not to solicit votes from members of the electoral college and be involved in publicity campaigns by any means.
The statement reads, "Any kind of publicity, asking for votes through electronic means, such as SMS, Facebook, Viber, making statements against the code of conduct, issuing press statements, publishing and broadcasting pre-poll election prediction through media, is prohibited."
Nepali Congress's Ram Chandra Poudel and CPN-UML Subas Nembang are vying for the election of head of the state.
The election is taking place from 10 am to 3 pm on Thursday. Results of the presidential election are expected to come out by Thursday night itself.
Meanwhile, both the candidates of the President wrapped up their publicity campaign by holding meetings with party chiefs on Monday before the silence period began from midnight.
Presidential candidates Paudel and Nembang separately met with Rastriya Prajatantra Party chairman Rajendra Lingden and Nepali Congress president Sher Bahadur Deuba today
NC chief secretary Krishna Prasad Paudel informed that as NC President Deuba called all political parties, including the CPN-UML in written urging them to cast vote to Ram Chandra Paudel, common candidate of eight parties, exhibiting a political culture, but UML chairman KP Oli urged other parties expect for the NC to vote Nembang.
"Nembang might have met Deuba following the political culture," Paudel said.
Likewise, Paudel met the leaders of all political parties requesting them to give him vote in the election, and Monday`s meeting with Lingden was for same purpose, informed chief secretary Paudel.