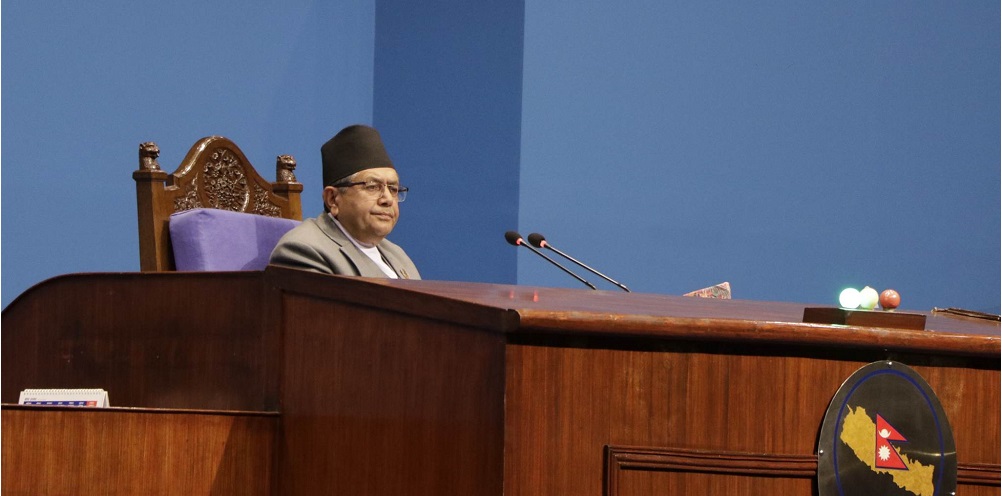 Kathmandu, Feb 1: In a meeting of the House of Representatives (HoR) today, lawmakers of different political parties drew the government's attention towards the dire need to upgrade roadways across the country.
Airing her views in a zero hour of the session today, Anisa Nepali demanded that the government upgrade the Dang-Deukhuri road. "Though the road was opened years ago, it has not been upgraded yet," she informed the House.
Ambar Bahadur Thapa apprised the House that rising accidents along the Karnali Highway were majorly due to its narrowness and urged the government to upgrade it to a double-lane facility.
Ishwari Gharti echoed the need for safe roads in Rolpa at first instead of tourism and other sorts of development while Tshiring Damdul Lama Bhote urged the government to first repair and upgrade the damaged roadways.
Likewise, Achyut Prasad Mainali drew the government's attention towards restoring bridges in the country.
Dr Amaresh Kumar Singh expressed his concern over rising cases of suicide in various parts of the party, highlighting the need of forming a high-level judicial committee to prevent possible cases.
Amrit Lal Rajbanshi said the issue of landless squatters was becoming more serious and challenging, demanding the National Land Commission make its affairs effective.
Amrita Devi Agrahari said the parliament should be utilised and developed as a venue for exchanging, generating and cultivating ideas for achieving the prosperity of the nation.
Arjun Narsingh KC said the scale of corruption had increased, demanding an end to a syndicate in the tender for development projects.
Lawmaker Ishwor Bahadur Rijal said the monkey menace in the Dolakha district has almost displaced farmers by destroying their crops. He also drew the government's attention to the issue and sought a solution.
Similarly, Dr Chandra Kanta Bhandari also complained about the monkey menace in Gulmi district and sought the government's initiatives to solve the problem.
Ishwori Devi Neupane demanded that the government seeks a solution to the increasing suicide cases lately.
Urmali Majhi and Eknath Dhakal drew the attention of the government to prioritise and take transitional justice to a conclusion at the earliest.
Similarly, Ain Bahadur Shahi Thakuri asked the government to reconstruct physical infrastructures destroyed by the flooding in the Mugu district and provide relief and compensation to the victims.
The victims are facing a shortage of basic facilities like electricity, road and drinking water as a result, he pointed out.
Kantika Sejuwal mentioned that health workers and employees working for the Karnali Academy of Health Sciences had been struggling due to economic problems.
Lawmaker Gagan Thapa demanded that the government in line with laws should provide subsidies and concessional loans to the small-scale farmers who are enduring bank loans.
Also, Jeevan Pariyar demanded the publication of the report relating to the Pokhara Yeti Airlines aircraft crash at the earliest, and compensation to the families of the deceased. (RSS)