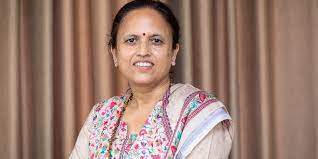 Kathmandu, Jan 18: Rekha Sharma, the only woman to be elected through the first-past-the-post system in the November 20 elections to the Federal Parliament representing the CPN (Maoist Centre), has been entrusted with the Ministry of Communication and Information Technology. Minister Sharma also leads the hierarchy of the ministers in the government led by Maoist Chairperson Pushpa Kamal Dahal 'Prachanda'. Prime Minister Dahal has given her the responsibility of an important ministry, which also serves as the spokesperson of the government.
Rekha Sharma is only the second female Minister of Communications in modern Nepali history. Her name comes to the fore among women leaders who played a significant role during the People's War and in politics after the peace process began. She had already proved her mettle as the Minister for General Administration and earned praise by playing an outstanding role in the parliamentary committees. Senior editor with the RSS, Mahendra Subedi, talked to Minister Sharma about her priorities, the government's approach to the media and the future work plan:
Question: You have been appointed the Minister of Communications and Information Technology of the Government of Nepal. You come to this position after going through a turbulent political journey. How did you feel leading an important ministry like Communications and Information Technology?
Minister Sharma: I think the Ministry of Communications and Information Technology is important in terms of the responsibilities of a ministry. I feel that I have more responsibility today than yesterday, as I reach this stage of policy making. But as far as this ministry is concerned, it is new for me. Hence, I feel that I have to work harder in my new responsibility and I am confident that whatever the scope of the ministry, I can carry out all the tasks efficiently. I will be working positively towards that end.
Question: What priorities have you set in terms of fulfilling your responsibilities?
Minister Sharma: Our priorities are spelled out in the policies and common minimum programme of the Government. But there are some other issues that are of concern for us. I also think that if information and technology, which falls within the scope of this ministry, is used in the right way then many of our problems will be solved. We have not been able to utilize technology in our journey towards development and prosperity. Both access and quality have not been sufficient. Hence, for this very reason, establishing easy access to information and technology for everyone will be our first priority, maintaining its quality second and making social service delivery technology-friendly third. Another important aspect is maintaining good governance through technology, which is a matter of top priority of this government.
Furthermore, reliable mobile phone service has not reached some places, including in Karnali province and some parts of Dang which I represent. This problem is also seen in different points of the highway. As a result, the quality of mobile telephone service will have to be increased. With all these things in mind, I will move ahead with advice and suggestions from experts in this field.
Question: The Ministry of Communication and Information Technology is directly or indirectly concerned with the entire media sector of the country for various reasons. What is your view towards the media sector?
Minister Sharma: Yes, you are right. The mass media sector of Nepal that is connected with this ministry is a very important sector. Media is also important vehicle to inform the people about the good deeds of the government, and thereby instill a sense of hope in them. Furthermore, if there are any problems in the media sector the government will take the initiative to address them. The role played by Nepali media sector in the political change and nation building remains very positive. Media is such a force that can offer feedback for solution of the country's problems and guide the people towards positivity.
As I said during my installation at the ministry yesterday, we will start by holding discussion with all the subordinate agencies under the Ministry and work based on the suggestions and feedback we receive from them. I will take all the required initiatives at the political leadership level to solve the problems that need to be addressed.
Question: Does this mean you are ready to collaborate with the press?
Minister Sharma: Of course, there will be collaboration as this falls under my scope. I look forward to collaborating and establishing healthy relations with the media sector. It is both my responsibility and my duty. I am ready for it.
Question: The entire media sector of Nepal is in a trouble in one way or other due to COVID-19 and the subsequent economic recession. How will the government address this?
Minister Sharma: I assumed office only yesterday. I have not been able to discuss this with everyone concerned. However, the truth is that the impact of COVID-19 is everywhere, including the media sector. Furthermore, the overall economy of the country has been impacted by it. We are developing a recovery plan, which also includes the media sector.
Question: Professional efficiency and capacity building of media persons naturally comes up when we talk about the media sector. What initiatives will the Ministry of Communication and Information Technology take in this regard?
Minister Sharma: No matter where we work professionalism is important. There are many competent people in Nepal's media sector. However, it is not that it does have any limitations, problems or weaknesses. We will decide on the basis of priority what infrastructures are required for enhancing professionalism. The government is ready to work for it and we will act based on discussion and collaboration with all concerned.
Question: You have served as a member of the Constituent Assembly and also as a member of the House of Representatives, where you were active in the parliamentary committees and made positively intervention in the law making process. Now you have assumed an executive role, so can we expect a policy 'break through' in the media sector?
Minister Sharma: All these will depend on the strength and limitations of the government and the problems facing the media sector. Some bills related to the Ministry are in the parliament while some have been withdrawn. I am also aware about various bills related to the media sector that came to the parliament, to which we made some amendments. But the bills were not passed. We will take necessary steps after studying about all the law-making works under this ministry and what additional works are needed to be done.
I will work with integrity after consulting with all stakeholders and experts concerned. It is my conviction that no matter what you do, you must work with honesty. Hence, I believe that some 'break through' can be achieved accordingly. I also believe that a lot can be done with the support and cooperation of the ministry's team and the cabinet.
Question: Every time a new minister joins, the government is accused of trying to curb freedom of expression. What is your opinion regarding freedom of expression?
Minister Sharma: Freedom of expression has been guaranteed in our Constitution. It also provides for the right to privacy. These two rights are intersectional and interrelated. It is quite right that freedom of expression should not be curbed. However, attention should be paid to the unrestricted expression. Hence, I believe that any thing that is used for our national interest are justified and should not be considered otherwise.
Question: Finally, in Nepal, the dominance of private media is higher than that of government media. Is there a special focus on increasing the effectiveness of government media?
Minister Sharma: The irony is that it is the same with any other sector in the country. The private sector is comparatively spread out in education, health, communications or other sectors as well. As far as the media is concerned, development and professionalism of the government media is one area which needs to be considered while on the other hand the role of the management side is equally important which has been entrusted with the responsibility of the organization concerned. The government is ready to do what needs to be done to make the government media competitive and more professional.(RSS)